VILLA ELIZABETH
An unique Guest House between Art de Vivre and Art Nouveau
Inspired by nature and feminity.
A unique setting for your stay in the Champagne area.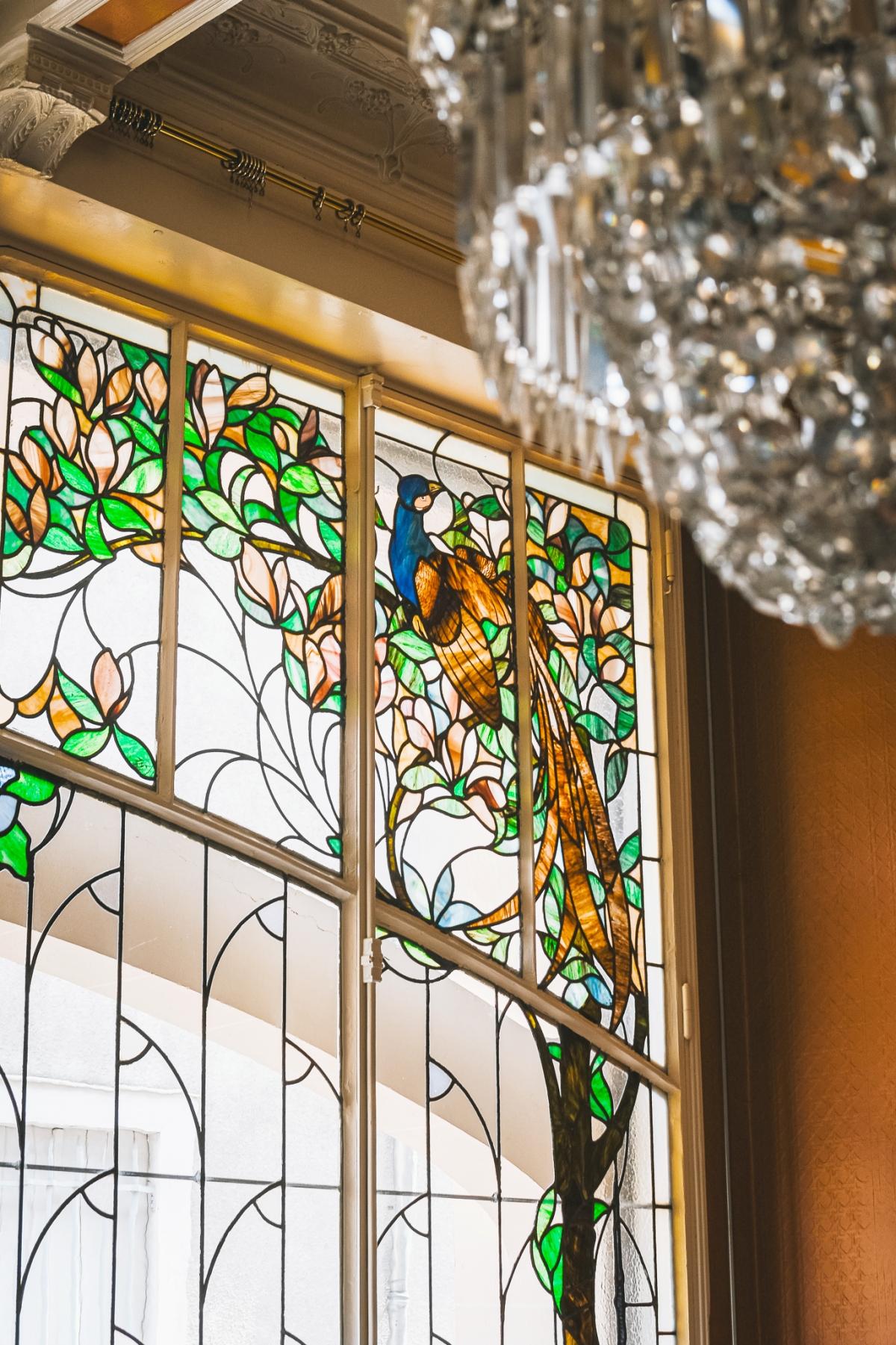 VILLA ELIZABETH
A unique setting

The house is located in the heart of the town of AY-CHAMPAGNE, at the foot of the slopes and the vineyard known since the 18th century for the high quality of its wines.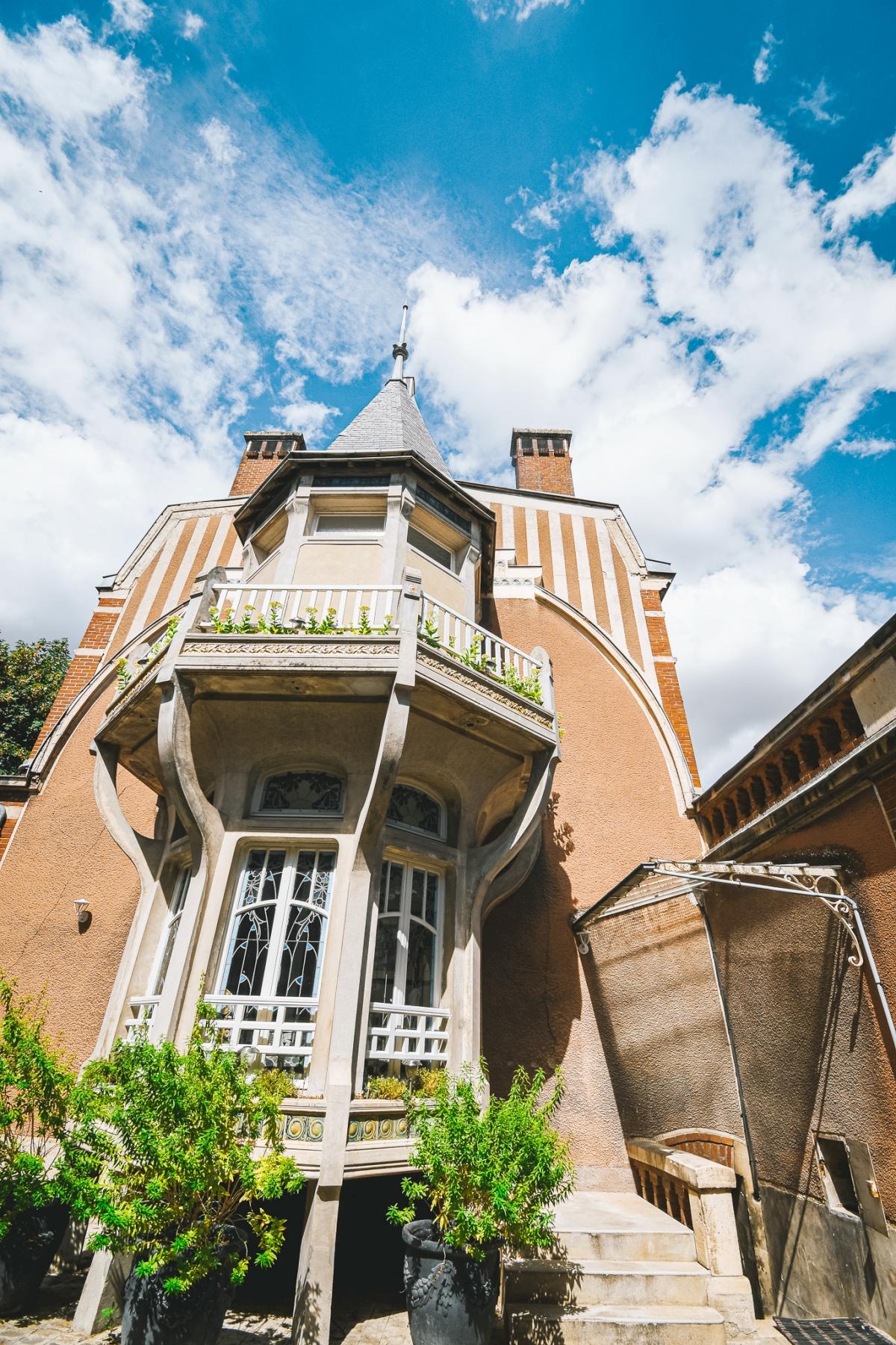 VILLA ELIZABETH
Inspired by nature and femininity
The house is remarkable for its Art Nouveau architectural qualities and decorative elements, characteristic of the Belle Epoque, stained glass windows, mosaics, joinery and floral decorations.

This house belonged to Champagne wine merchants who wanted to affix a "champagne" imprint to this house by having a wall lamp on the south side built in the 1900s, a tower in the shape of a champagne bottle "muselet" (champagne wire).
---
Five rooms
Five charming rooms with bathroom and private toilets. Rooms are located on the first and second floors.
All are accessible with a lift.

The paved courtyard
The Villa is located in the center of the town. The paved courtyard is large enough to accommodate five cars safely parked for the night.
The reception areas of the house
The ground floor is occupied by the dining room and lounges for relaxing, sharing meals and enjoying champagne tastings.
Guests are welcome to enjoy the lounges. Fell free to consult the books in the libraries.
A fire is lit the chimney when the freshness reigns outside.


The kitchen
The kitchen is a place that lives, the heart of the house.
The guests come there freely and spontaneously, to drink a cup of tea, a glass of champagne, or simply to speak with me.
This is where I am most often found.


The vegetable garden
It was created to supply the Table d'Hôtes with fresh vegetables and herbs, in the form of raised vegetable squares.


The pleasure garden
Closed walls and sheltered from all prying eyes, it is a relaxing space in the heart of the city of AY CHAMPAGNE.
On your return from your daily explorations, you will love relaxing in the garden, in the shade below the trees, or in the sun, lying on the lawn.



The House is "non-smoking"
(But guests are not prohibited from smoking in the garden)


Arrival & Departure
Check-in :
Please check-in between 4pm and 7pm, to give you the time to settle down and to get to know the place
(If you have to arrive later, please let me know and I will wait for you)

Check-out :
The day of your departure, it is desirable that the rooms are released at noon
Closed :
Sunday evening and Monday evening.

If however, staying in the house on Saturday, you wish to extend your stay on Sunday or Sunday and Monday, you will have the possibility to do so, whether it is booked or decided during your stay.